Monday, November 22, 2010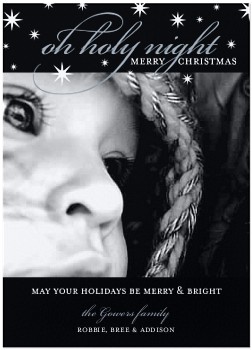 Oh Holy Night Religious Christmas Card

Posted by

Bree
at 22.11.10
1 comment:

Links to this post
Wednesday, November 17, 2010
There's a huge chance you've already heard about this promotion on other blogs since it's a promotion for bloggers --Shutterfly is offering 50 free Christmas cards to bloggers. Although I've always used shutterfly for my holiday cards, I am excited about being able to try out Shutterfly this year and get 50 cards for free. They have a huge selection of beautiful, original cards designs. The best part is that with their wide assortment you won't end up sending out the exact same card as your friends or neighbors, unless they just happen to have the same impeccable taste as me.
My favorite product offered on Shutterfly are the photo books. I am currently making a photo book for my mom of our weekend get a way to San Diego. I also am hoping to catch up with Addison's book. I have made her books for each 6 months. Don't laugh, my girl gets around and it is all documented in pictures! Honestly I know everyone is busy but with Shutterfly it's possible. Their layouts and design make it easy to put a year of photos into a book that I know my family will cherish for years to come. One down. Millions to go.
Click here to view this photo book larger
The easy part is putting in the promo code for my free cards, the difficult part will be deciding which card design to use.
I especially like the flat, stationary cards.
But I love this one, too (flat photo card).
This year with the economy hasn't been the easiest. ** I am crossing my fingers that things turn for the better this next year.** I have ALOT to be greatful for. And to be honest...
it is kind of fun trying to cut corners where you can. I love the fact the when I do make a purchase at shutterfly that I am ALWAYS able to use some sort of discount.
It's not how much you spend, it's what you saved. RIGHT LADIES!
This post is sponsored by Shutterfly.com.
Bloggers get 50 free holiday cards from Shutterfly.
Sign up for your free 50 Christmas cards!
Posted by

Bree
at 17.11.10
No comments:

Links to this post
Monday, November 15, 2010
This journey in motherhood has been the most enriching and rewarding time in my life. When I am not with her I want to be her. When I am with her I just want to kiss, squeeze, cuddle her like there is no tomorrow.
The change of season's is officially upon us. The warmth of fall is filling our home and I LOVE it. With the exception that it seems to be moving at flash speed. Christmas is now almost here..... TIME PLEASE SLOW DOWN!
Posted by

Bree
at 15.11.10
2 comments:

Links to this post